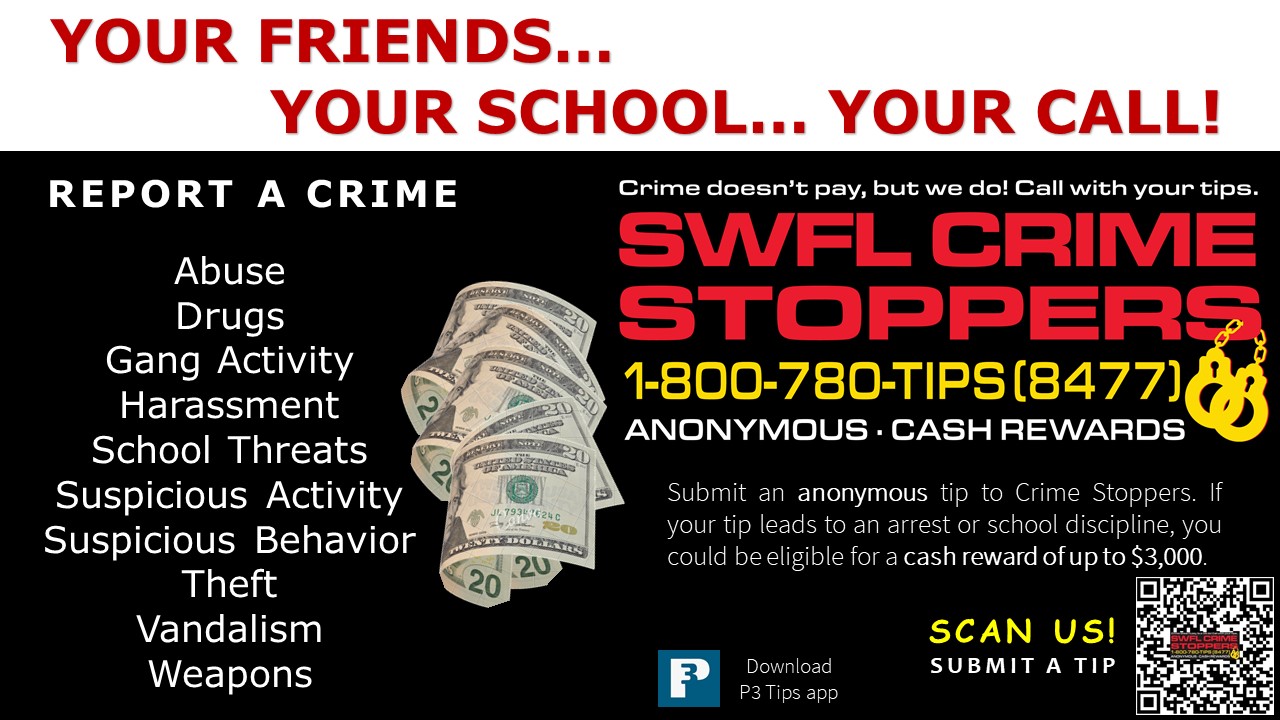 YOU DON'T HAVE TO GIVE YOUR NAME! Students who step forward with anonymous tips leading to an arrest or school discipline will be eligible for a cash award through the SWFL Crime Stoppers program.
School and law enforcement agree that most students want to do the right thing to keep their school and neighborhood safe, but sometimes they have fear of retaliation. SWFL Crime Stoppers offers the safety of complete anonymity while promoting responsibility and allowing students to take action against victimization and crime.
Students can report a crime that has taken place or is planned to take place on school grounds or while on the bus to and from school. Student tipsters will remain 100% anonymous. The only person who will know you submitted a tip is YOU!
What can you report to Student Crime Stoppers?
How does Student Crime Stoppers work?
STUDENT CRIME STOPPERS VIDEO - WATCH NOW!
How can I submit a tip?
If you have any information about a crime, call the SWFL Crime Stoppers call center at 1-800-780-TIPS (8477) or download the P3 Tips mobile app by click the "Mobile App" button at the top of this page. We want your information, not your name! You will be given a tip ID number. This should be kept to yourself in order to remain anonymous.
You can contact Crime Stoppers to request a status on your tip or you can dialog with us through the P3 Tips mobile app and we will provide you with an update.
If the tip leads to an arrest or disciplinary action, such as suspension or expulsion, the tipster may be eligible for cash reward of up to $3,000, depending on the charges. It is the responsibility of the student to contact Crime Stoppers by providing your tip ID number so we can see if you have been approved for a cash reward. Once approved, the tipster is provided with a bank location where tipster can pick up reward.