If you have any information about these crimes or any person(s) involved, you are urged to call SWFL Crime Stoppers at 1-800-780-TIPS (8477) or click the Submit a Tip button to anonymously provide information. We want your information, not your name! We will pay a cash reward of

up to $3,000

if your tip leads to an arrest.
Keith Alan Jones
October 22, 2019
STATUS
: OPEN
** UPDATE #1 **
The Office of the State Attorney 20th Judicial Circuit press release this evening stated a woman, Michelle Ashley a.k.a. Michelle Jackson (43), was arrested and charged with first-degree murder in the 1997 murder of Keith Jones in a Fort Myers motel.
---
ORIGINAL POST: JUNE 11, 2019
#TheSearchContinues For Answers In 22-Year-Old Cold Case Murder
A lot of time has passed and Crime Stoppers is hoping that someone from the community will come forward with any information that may help solve this 22-year-old cold case.
On June 19, 1997, Keith Jones, 27 at the time of his death, was visiting from Daytona Beach with a woman who worked at a local strip club. The woman stated they were at the Tides Motel on First Street in Fort Myers when three adult black males pushed their way in the room and fatally shot Keith in the head after robbing them.
Anyone with information about this case is asked to contact Crime Stoppers anonymously at 1-800-780-TIPS (8477) or click the "Submit a Tip" button. No amount of information is too small… it might just be the information the Fort Myers Police Department needs.
ALL CALLERS WILL REMAIN 100% ANONYMOUS!
We don't want your name… only what you know!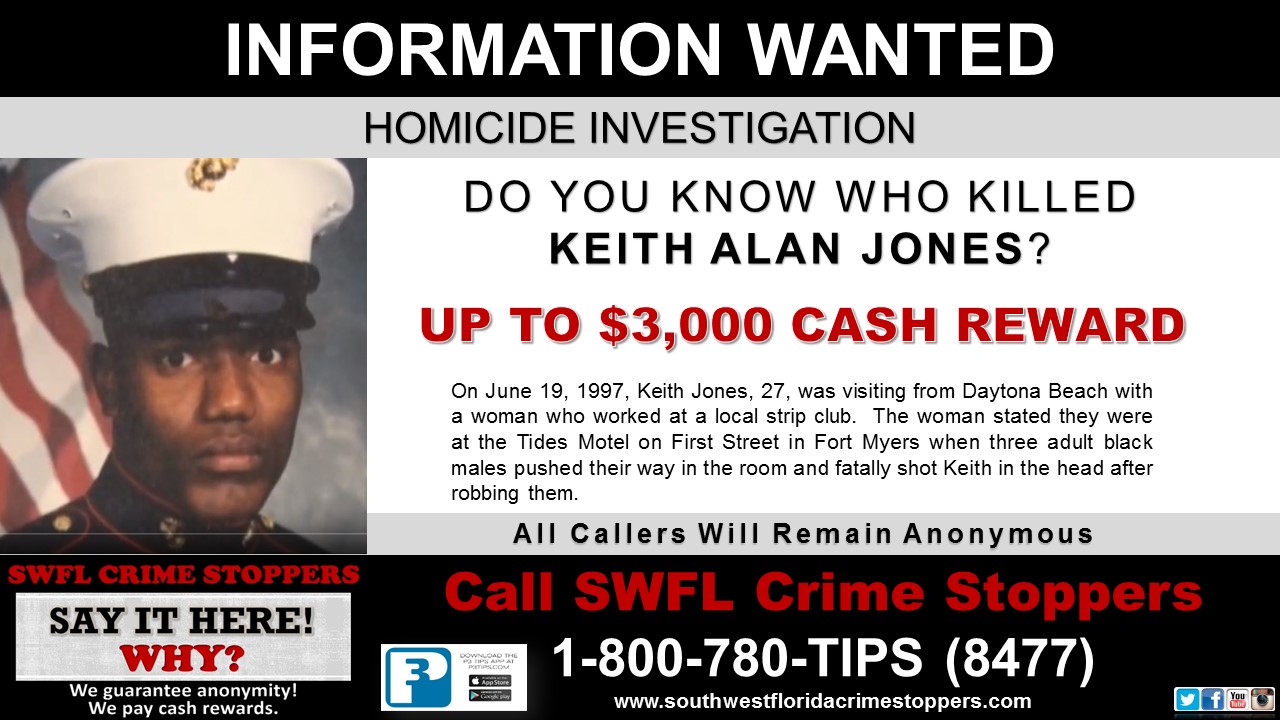 ---